---
About Wild Ones
Wild Ones Wiki
Wild Ones Wiki is a wiki which provides information about a game in

Myspace

,

Google+

and

Facebook

called

Wild Ones

by

Playdom

. This wiki is free to be edited by editors to make it more informative.
Wild Ones
Most of you have probably heard of Facebook, Google+ or Myspace. Well you might have also heard that they have games you can play online. Wild Ones was one of them. Wild Ones was a multiplayer turn based animated shooting game which was based on 'Worms'. You will start the game with a Dog and as you continue throughout the game you have the option to get a pet. There were also the maps to play on and weapons to use. Wild Ones will no longer run since 26 August 2013 in Myspace and Playdom and 28 August 2013 in Facebook. However, a new revamped version of Wild Ones called Wild Ones: Private Wars is set to release soon.
927 articles

&

23,098 pages

since April 2010
Related Wikis
---

Pets
Pets

Mammals

Reptiles

Birds

Marsupials

Human-Type
New on the wiki!
New! Request for cool signs? Go to Talk:Ask for cool signs!
New! Wild Ones Wiki main page design is finally finished!
New! JCRVHELPER has been made admin by WildBrick142. Congrats!
Did you know?
...that we need your help to eliminate vandalism?
...that if you miss the old Wild Ones Alpha, you can click here?
...that Kangaroo maximum Stat Points capacity is 25?
...that all Pets health can be upgraded only to 25?
...that a new link for 00000000000000000015.

15 Treats was made?
...that we don't have any ideas on "Did you know"? Suggest some in Talk:Did you know?!
Vandalism Warning
The current vandalism warning is black.
(Update 22/12/13 UTC 11:30) Vandalism may occur in the next few hours globally, including your wiki. Please keep an eye on the activity.
The vandalism warning can be seen here.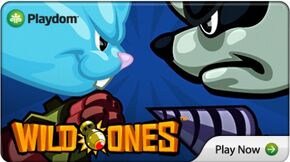 Contact Us!
If you have any questions, our team is always welcome to help you.

Active administrators within these 30 days:

or...

Go to the following pages:


Vandalism!

If you seek vandalism, don't panic! Stay calm and undo all the bad edits ONCE the vandal is gone. Don't do edit wars as vandals are very likely to be happy. If the scale of vandalism is serious enough, please go this page:
Polls
Q: Which version of Wild Ones you prefer?
Q: Which major change do you like?
All of these above are on only listed pages as they are still being tested.
---
Community content is available under
CC-BY-SA
unless otherwise noted.