This page is checked.

This page is checked on 03:33, December 30, 2011 (UTC), please add more data to this page if there is something new to this page to prevent getting outdated. We are welcome for more information and more relevant photos. This page meets Wild Ones Wiki standard and is informative to visitors.
The Killer Hamster is a crawling timed explosive released in October 8, 2010 for some days. When it is shot out, after some seconds, it deploys a hamster which inflicts damage on opponents.
Icon
Cost
Max Cost & Ammo
Members:

99,000 Coins for 495 ammo

Damage

700 - 800 Damage

Ability

Deploy a Killer Hamster

Found in crates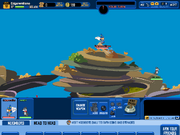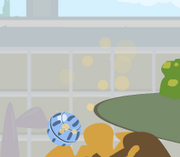 Advantages
Edit
Sometimes if you miss the target, it may run to the enemy you wanted to kill.
The bomb will not affect you except for the blast radius dealt.
If the pet is near the wall and not being bombarded, the bomb will go in opposite direction.
It is the upgraded version of Spider Bomb.
Can do an OTK.
Disadvantages
Edit
Sometimes it will crawl back to you or bombard a teammate.
Like the Spider Bomb, the Killer Hamster only explodes at enemy and will not explode at you.
There is a hacked version of the Killer Hamster that is thrown without the ball like the Spider Bomb. The code is "killerhamster".
When successfully hit an opponent with the hamster, you will get the title for bees (Yikes!), this is due to the yellow smokes the ball emits.
There was a glitch that cause a player to get banned because of having the weapon, Playdom has now fixed this problem.
Astonishingly, this weapon is released only for a week.
Killer Hamster looks like Hamster.
Combination of Spider Bomb and Beehive.
See also
Edit