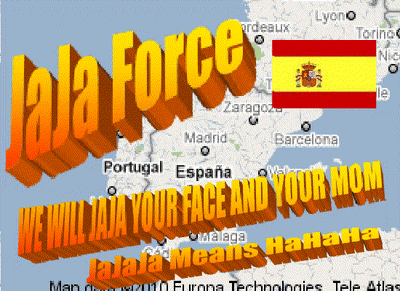 The Jaja group page!

It even has its own room, The Jaja Force
Description
Edit
The Jaja Force are the first group in Wild Ones, The Group are famous for being in the Official Wild Ones Forum.
The Jaja group members:
speedstack610 and driftkingz109, the founders of the Jaja Force went to the RisingSun!
The newest members for Members are first
(Note: funkey100, crimsonflame and Jackz1 quit and went to RisingSun)
crimsonflame --- No account

carlo24 --- No account

The Jaja Force commomly use the Monkey in their matches.
Jajaja means "Hahaha" in English.
It seems most members of the Jaja Force are Spanish.
They have a fierce rival known as "Da Rising Sun Gang".
Others are known as " Fallen Immortals" and " The Cowboys" and "Fallen Angels"
Most of them uses the Minigun!