This page is checked.

This page is checked on 03:33, December 30, 2011 (UTC), please add more data to this page if there is something new to this page to prevent getting outdated. We are welcome for more information and more relevant photos. This page meets Wild Ones Wiki standard and is informative to visitors.
This weapon is harmful to your health.

Cow is a chemical weapon. Please do not overuse it because it will be very destructive and will make the game unfair.
The Cow is not technically an animal but a dynamite disguised as a cow and one of the strongest weapons in the game. It can do an OTK. If it has hit the ground before it hits the target, it will do no damage but explodes a puddle of goo. (Even if you hit your opponents, it will still spurt out goo.)
The Cow is thrown like the
Anvil
.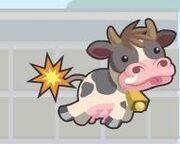 | | |
| --- | --- |
| Icon | |
| Cost | 00000000000000000004. 4 Treats for 4 ammo |
| Max Cost & Amo | 396 Treats for 396 ammoMembers: 00000000000000000297. 297 Treats for 495 amo |
| Damage | |
| Goo damage | 150 Damage per second |
| Ability | Throw a heavy cow at an opponent directly for massive damage and leave a puddle of goo behind |
| Found in crates | |
Advantages
Edit
It can do an OTK.
Also suitable for a pair of opponents together,whilst one suffering to death,one will be affected by the goo.
Disadvantages
Edit
It can't kill somebody if the Cow hit the ground, which can cause epic failure and epic waste.
Not recommended if you want to spread a lot of goo
When thrown with no power, the Cow will lay on the ground for a few moments, without exploding.
The Cow is the upgraded version of the Anvil.
If you one want to make goos, this weapon can't make the great choice. However, Mega Globgun can do an OTK which is similar to Cow. However, if you want to spread it better and make an OTK Mega Globgun is better.
The reason it spreads goo is unknown, maybe is just a hilarious effect, because is a classic that cows have goo inside them, and release them when exploding;or a cow with a dynamite inside it,while the cow is very heavy(hence doing an OTK), the dynamite explodes inside,splattering goo in it (somewhat grotesque).
The code is "cow"