This page is checked.

This page is checked on 03:33, December 30, 2011 (UTC), please add more data to this page if there is something new to this page to prevent getting outdated. We are welcome for more information and more relevant photos. This page meets Wild Ones Wiki standard and is informative to visitors.
Clover Shower
is an
OTK
weapon in
Wild Ones
. When you use this weapon, there will be a wave of clover missiles at first. Then, it will inflict another wave of clover mines. If lucky enough, an
OTK
is resulted.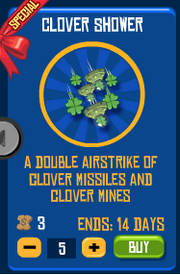 " A double airstrike of clover missiles and clover mines"
Icon
Cost
First Release:

3 Treats for 5 ammo
Second Release: 00000000000000000002. 2 Treats for 7 ammo
Now:

Missile Damage

375 Damage each

Mine Damage

175-200 Damage each

Ability

First, clover missiles will fall down. Second, clover mines will fall down

Found in Crates
Released on
First Release: March 16, 2012
Second Release: March 16, 2013
Expired on
First Release: March 30, 2012
Second Release: April 15, 2013
Advantages
Edit
Disadvanateges
Edit
It's the only shower who has two waves of inflicting damage.
It's a two-part type weapon where the 1st part is the missile damage while the 2nd part is the mine damage. It is possible to be three-part type or more if the pet stepped on two or more mines.
It's a St. Patrick's Day Weapon like the Pot of Gold.
The mines of it immediately explodes when in contact and the beeps follow instead of the delayed explosion after it has beeped.