Expired Content

This page contains information about Expired Content, thus Armadillo cannot be seen in the shop of Wild Ones.
The Armadillo is the 6th pet to be released. The Armadillo is able to dig for as long as its turn lasts and can be switched on and off, just like the monkey's ability.As from 7/9/11 the Armadillo is available for coins along with Panda. As from 26/1/12, the Armadillo has become expired and cannot be bought anymore, but it's available in Wild Ones: Private Wars.
The Armadillo's stats



Health

1000 HP

Speed

1.35 cm per second

Jump

0.5 cm high

Ability

Ability Uses

Unlimited On - Off

Cost

4999 coins (Currently Expired)

Level To Buy

22

Main article: Pets
Advantages
Edit
The advantage of the armadillo is the Dig ability in which the armadillo is able to dig far away and then use an air strike in which the other players are harmed while the armadillo is safe. Another advantage is its health which is fairly high.
Disadvantages
Edit
The most common disadvantage of the armadillo is its speed and jump in which is very low. The armadillo doesn't work very in maps which have more floating platforms.
Right key to move right, Left key to move left and Up key to jump. D key to move right, A key to move left and W key to jump.You can also use the mouse to point where to go.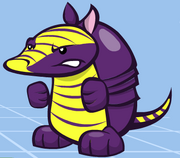 The Armadillo was released on June 8, 2010.
It is the second pet to be able to turn its ability on and off. The first pet was the Monkey.
It has a huge advantage on the Creepy Crawly Map, because of its digging abilities.
A common tactic with the Armadillo is to use dig to hide and then use one of the weapon airstrikes. However, the Armadillo and other pets at the digsite are vulnerable to goos and napalms. Some experts usually use Armadillo to dig hole to make other pets to fall into the hole which causes an OTK.
Before its release, the Armadillo's pics were found on the Playdom Forums.
The armadillo is hated by some players due to its very low speed and very low jump (even lower than the Panda).
The price has increase to 40 treats like the Panda and Bat. Many people felt lucky of their homepet before the price has been increased. But now its for 4999 coins and members 3999 coins
Armadillo's ability don't work in Indestructible Egypt map.
This Health max stat points is 41 
Armadillo is the only animal on this planet carrying leprosy.
Pets

Mammals

Reptiles

Birds

Marsupials

Human-Type